St Nicholas Church Baddesley Ensor
last updated 01/09/2022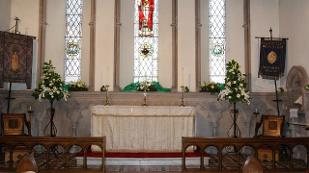 CHURCH HALL FUNDRAISER FOR BADDESLEY ENSOR!
· EXHIBITION OF PAINTINGS IN CHURCH: there will be an exhibition of paintings by local artists in September, on Saturday and Sunday 10th and 11th, and Saturday and Sunday 17th and 18th: 1- 4 pm each day. When possible, artists will be there to chat about their work. Some of the paintings will be auctioned – see below. There will be no entry charge, but donations will be welcome. (St Nicholas' Church – CV9 2BQ)
· AUCTION: A fund-raising auction will be held at Baddesley Ensor Social Club (CV9 2DN, no. 50), on Thursday 22nd September; the event will open at 7.00 pm, and auctioning will begin at 7.30 pm. The auction will have two themes: a "Promises Auction", when promises of work or activities – pledged by local people - will be auctioned. The other theme is the auction of some of the paintings from the exhibition. All of the proceeds from both parts of the auction will go towards the reinstatement of the badly-damaged Church Hall. Please tell your friends; and please come and be generous!
September in our Three Parishes
Today seems to me to be a good day to reflect of the spiritual and human gift of kindness – it seems to me there is an awful lot of it out there in our world, and it has been my privilege to be on the receiving end of it recently. As soon as I said I would hold an Afternoon Tea as a fund raiser for Cancer Research UK in memory of my late husband Paul, people offered to help with providing food, and so many of you came along to support it and helped out, I have received anonymous donations through my door, and there was much generosity on the day itself. So many people came along it was amazing. Thank you so much to one and all. You are all extremely kind.
On my holiday to Lee Abbey in Devon I also found much kindness. I didn't know anyone there when I arrived, but never a day went by without conversations and company with various different people. I heard other people's stories and they heard some of mine. It was like being in the middle of an extended Christian family, and I felt held by the kindness and goodness of God as demonstrated through this gathered group of Christians from all across the UK and Europe. God's heart is full of kindness towards his people and he shows it to us in many different ways, but often through the actions of other members of his family. As we show kindness to one another we are sharing that aspect of God's character, demonstrating that particular fruit of the Holy Spirit in our lives, lifting one another up and being bound together in love. Thank you for all your kindnesses.
Liz
For any who would like to follow the bible readings used in church at home, or to read them in advance of the services, here is the program for September.
4th Trinity 12 Philemon 1-21 Luke 14:25-33
11th Trinity 13 1 Timothy 1:12-17 Luke 15: 1-10
18th Trinity 14 1 Timothy 2:1-7 Luke 16:1-13
25th Trinity 15 1 Timothy 6:6-19 Luke 16: 19 - end
If you have requests for prayer, privately or in church; or would like to request a visit from Liz or a church member; or are housebound or sick and would like to receive communion at home; please call Liz on 01827 713245.
St Nicholas Church, Baddesley Ensor
Services in September
4th September 9.45am Holy Communion
11th September 9.45am All Age Worship
18th September 9.45am Holy Communion
25th September 10.30am United Service of Holy Communion
At St Leonards Church, Dordon
Art Exhibition – 10th, 11th, 17th, 18th September, 1-4pm
There will be an exhibition of the work of a number of local artists including Drew Hetherington, and some work from the children at Woodside CE School on display in St Nicholas Church – some local scenes. Some of the work of the local artists will be available for bidding on at the Promises Auction – do come along and have a look.
September 22nd – Promises Auction at Baddesley Club, 7 pm
Thank you to the Club for agreeing to host this event to kick off the fund raising for the rebuilding of the Church Hall. Can you offer a promise – to bake a cake, do an hour's gardening, teach a skill, clean cars … anything you can offer that someone else might bid for. Please let Adam Gallett know as he organises the event (718221). And please do come on the night to bid – it should be fun.
Church Hall : Tenders are still awaited. Thanks to Merevale Estates for their assistance in boarding up the hall.
PCC Meeting following the service on 4th September in church.
Harvest Festival : 9.45am on Sunday 2nd October
School service at Church for Reception year, Wednesday 28th September
Messy Harvest with Woodside School, Friday October 7th
Congratulations to Sue and Terry Bradford on their Golden Wedding.
Church Wardens : Claire Blakely and Adam Gallett
St Leonard's Church, Dordon
Services in September
4th September 9.45am Morning Worship
11th September 9.45 am Holy Communion
18th September 9.45 am Morning Worship
25th September 10.30am United Service of Holy Communion
at St Leonard's Church, Dordon
Coffee and Chat in the Church Hall every Tuesday from 10.30am. All are welcome, as always. Craft Group Wednesday afternoons in the Church Hall from 3pm
Fordante – a further date has been booked for an afternoon concert this time, on Sunday 9th October, Reserve the date in your diaries and get your tickets – ask Christine Mills.
Church Hall Bookings. Now dealt with by Lynn Allsop and Judy Dorn Look for posters for their contact number.
21st September – there is to be a farewell in Polesworth and Coleshill Deanery for Bishop David who retires in October. The Deanery has been putting together a memory book of pictures of him visiting the Deanery – if you have any to contribute please send them to the Deanery Clerk, Ruthi by 9th September. RuthiL@cofebirmingham.com When known, details of venue will be announced in church.
Harvest Festival : 9.45am on Sunday 2nd October
Harvest Giving – the decision has been made at all three churches to support local foodbanks with our harvest produce, so tins and packets with long dates are requested in place of the usual fresh produce.
Church Wardens : Mick Dorn and Bridget Garratt
Thank you to all who supported Afternoon Tea at the Vicarage, raising funds for Cancer Research UK, the wonderful sum of £1060.40 in memory of my late husband Paul who died of cancer in 2019. Liz
All Saints Church, Grendon
Services in September
4th September 11.15am Morning Worship
11th September 11.15am All Age Worship
18th September 11.15am Holy Communion
25th September 10.30am United Service of Holy Communion
at St Leonard's Church, Dordon
Back to the drawing board - the architect has now been asked to draw up revised plans for All Saints, to bring the new toilet and kitchen inside the existing footprint of the building. It is hoped this will be accepted as a revision of the plans for the purpose of official permission and so not delay the project by too long a period. The hope is to have a project providing similar facilities to those planned but costing less.
Open Church Weekend 3rd and 4th September All Saints will be open to visitors from 10am to 4.30pm on Saturday and 1-5pm on the Sunday. There will be a variety of stalls in the marquee including cakes, tombola, bric-a-brac, in church there will be a letter trail for children as well as the discovery trail, a raffle, refreshments, flower displays, and art exhibited. Come and see - all welcome.
A sponsored walk of around 5 miles is planned for the Harvest weekend 2nd October following the morning service, returning to church for refreshments. Anyone who enjoys walking welcome to join.
Church Wardens: Judith Taylor and David Price
Exploring Prayer through the lectionary readings will take place on Thursdays at the Vicarage in Baddesley Ensor. Starting at 7pm on 29th Sept, 6th, 13th, 20th October, 3rd, 10th, 17th, 24th November. Let Liz know if you are coming, or just turn up.
To contact Liz by email : lizbickley@btinternet.com
St. Nich's Kids
Fun activities for all children in the Church Hall 1st & 3rd Sundays 9.45 a.m. (except when it's Messy Church)
Worship for All Ages 2nd Sunday in the month 9.45 a.m.